SOLD!!

Beautiful Ranch in West Kerr County

200 Holcomb Rd

Mountain Home, TX 78058 | Kerr County

MLS ID #:N/A
* Slider takes a minute to load, please be patient *
Overview
Buildings
3 sided metal barn, old single wide mobile no value added
Fencing
low fence- needs a new fence
Water/Sewer
private water well
Land Type
Undeveloped ranch
Other Utilities
electricity, light pole at the homesite
Road Access
paved road to the ranch gate, no roads on the ranch
Property Description
This beautiful 224 acre ranch is located in the heart of the Texas Hill County. Ideal for recreational use, build your vacation home or make it a hunting retreat to escape from the city. The diverse topography allows for majestic views and privacy with proper land clearing. The paved roads to the ranch gate makes for easy access to the homesite and barn. This ranch offers a serene and majestic view of the country side once the land is cleared out. Currently filing for a rest on the ranch this will give the buyer time to replace fencing to hold livestock properly. Once the cedars have been cleared out this will also allow the natural grasses to come back abundantly.
Location:  Less than 30 minutes to Kerrville allowing for easy access to IH-10, shops downtown, grocery stores, hospital and so much more that Kerr County has to offer.
Topography:  The elevations on the ranch ranges from approximately 2000 feet to 2200 feet.
Terrain:  Level, heavily wooded, some rock, slightly rolling, steep in some areas
Soils:  Mostly black dirt with limestone throughout.
Vegetation:  The vegetation consists primarily of native grasses, tremendous amount of Juniper allowing for good cover for the wildlife, agarita and various oak species.
Hunting:  Wildlife on this ranch includes whitetail deer, turkey, dove and numerous exotic hoof stock including hogs and other smaller game native to the Texas Hill Country.
Improvements: Large metal barn closed in on 3 sides with a lean-to off on the South side. An older single wide mobile home (no value added), electric, private well and the property comes "as is".
One deer blind and one corn feeder already fenced into keep livestock out.
Buyer is responsible for the removal of all items present at the ranch.
Water: There is a private water well located at the homesite, the condition and depth of the well is unknown. Buyer is responsible for any well testing or inspections during the option period. 
Interior Roads:  Interior roads consist of rough "ranch" roads mostly UTV paths. Buyer will need to develop and create new roads to access by vehicle. 
Buyer to verify with the appraisal district on any  details regarding the Ag or wildlife tax exemptions. 
Listing agent must be at showings and will require 48 hour notice to schedule all appointments. Buyer agents must be at all showings to fully participate in commission. Call Kathryn Hawkins to schedule a showing today.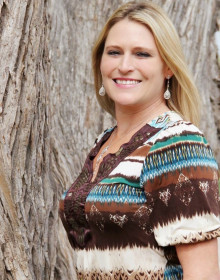 Kathryn Hawkins
830-285-9919